By Xuefei Chen Axelsson
Beijing, March 14(Greenpost) – On March 8, Li Ganjie, Minister of Ecology and Environment gave an inspiring press conference in Beijing's Media Center during the National People's Congress and Chinese People's Political Consultative Conference.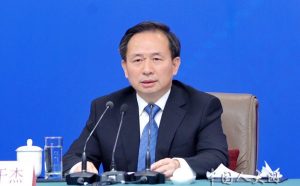 He briefed journalists home and abroad about the achievements they made over the past year in the quality of air, water and others.
"In 338 cities of prefectural level or above, the percentage of good aiar quality days reached 79.3%, up 1.3 percentage points year on year, the average PM 2.5 concentration was 39 ug/m3, down 9.3 percentage points year on year. Beijing, Tianjin, Hebei Region and its periphery areas, the Yangtze River Delta and the Fenhe-Weihe Plain respectively saw decrease in PM 2.5 concentration by 11.8%, 10.2% and 10.8% over the same period of last year. "
Compared with 2013 or 2014, the PM 2.5 concentration reduced by half.  It is a big progress. However, compared with the best place, it is still five times higher in the worst days, and in the best days, it can be as the best in the whole country.
In terms of water quality, good water namely I-III year on year increased to 71 percent, an increase of 3.1 percentage point. Worst water surface decreased from 8.3% to 6.7%. Offshore water quality remains stable with a positive momentum, with COD, ammonia nitrogen, SO2 and NOx emissions respectively reduced by 3.1 percent, 2.7 percent, 6.7 percent and 4.9 percent.
What measures has China taken to fight against pollution? All kinds of measures have been taken.
First, progress was made in all aspects to secure a blue sky. The State Council published a 3 year Action Plan on Defending the Blue Sky, approved the publication and implementation by relevant authorities.  The Action Plan on the Tough Battle for Diesel Trucks Pollution Prevention and Control.
"We have facilitated the establishment of Leading Group for Air Pollution Prevention and Control in Beijing, Tianjin, Hebei Region and its periphery areas, put in place a coordination mechanism for air pollution prevention and control in Fenhe-Weihe Plain and made improvements in such mechanism in the Yangtze River Delta and other organizations specialized in air pollution treatment and prevention." Said Li.
Local governments were assigned 23000 air quality related environmental issues to solve. 80 percent of polluted coal-fired installations were replaced by natural gas.
Steel plants upgrading was initiated to achieve ultra-low emission. 22480 villages and 883 gas companies in 39 cities were screens for progress in coal-to-gas projects, with 141 complaints of poor heating services investigated and handled on the spot.
Transportation of coal and other bulk goods was done by railways instead of road.
National VI Grade gasoline and diesel was made available across the country, with quality alignment of diesel for vehicles, diesel for general purposes and diesel for certain vessels.
Research has been done on the causes of atmospheric pollution and helped gain a clear understanding of the transmission pathways and main sources of air pollutants in Beijing, Tianjin, Hebei Region and its surrounding areas.
Guidance was given to key areas to review their contingency emission reduction checklist for more effective emergency response in case of severe air pollution.
Second, intensive campaign was launched in water quality improvement.
Further progress was made in protection of centralized drinking water sources across the country, with 99.9 percent remediation of 6 251 problems in 1586 water sources, enhancing drinking water safety for 550 million residents.
1009 out of 1062 black and odorous water bodies in 36 key cities were treated with the problem eliminated or basically eliminated. That is 95 percent.
Centralized sewage treatment facilities were built in 97.8 percent of industrial hubs at or above provincial level with automatic online monitoring system.
Fiscal incentive policy for eco-protection and restoration of the Yangtze River Delta has been drawn and implemented.  Joint research center for Eco-Environmental Protection and Remediation of the Yangtze River was established and the legislation made headways.
The Bay Chief System has been implemented in ocean pollution prevention and control.
Comprehensive environmental improvement was completed in 25000 villages and Zhejiang's Green Rural Revival Program was recognized by UN with a Champions of the Earth Award in 2018.
Third, steady progress was made in soil contamination control and remediation. Law on Soil Contamination Prevention and Control was deliberated and adopted by the Standing Committee of the NPC, with Measures for Soil Environment Management of Land for Industrial and Mining Use and standards for soil contamination risk management and control for land for agricultural and construction purposes promulgated.
Survey of agricultural land contamination was completed in 31 provinces and Xinjiang production and construction Corp with results submitted to the authorities.
Collaborative monitoring system for contaminated sites was established in 26 provinces. Risk screening and remediation of farmland contamination by cadmium or other heavy metal industries was conducted and national soil environment information management platform was built. The construction of six pilot zones comprehensive prevention and control of sil contamination and over 200 pilot technology application projects of soil contamination treatment and remediation continued to press ahead.
Work plan for the pilot construction of Waste-Free Cities was published by the General Office of the State Council, with a resolute ban on imported waste.
Campaign were launched in a phased manner to crack down environmental violation by enterprises processing and recycling imported solid waste and the imported solid waste totaled at 22.63 million tons, a year on year decline of 46.5 percent.
Waste Elimination Campaign 2018 was conducted to combat illegal transportation and dumping of solid waste. 1304 out of 1308 prominent cases under supervision were solved, 99.7% of the total.
Efforts were made to promote compliance in waste incineration for power generation, with all waste incineration power plants having taken remedial measures where problems were found.
Fourth, ecological protection and remediation progressed vigorously.  Ecological red line was defined and redline boundary survey and demarcation was launched.
Fifth, supervision and law enforcement were strengthened in eco-environmental protection.
Opinions on Prohibiting One Size Fits All Approach in Environmental Protection and Opinions on Further Strengthening Supervision and Law Enforcement in Eco-Environmental Protection were issued to normalize environmental law enforcement.  There were 186000 cases of administrative penalty nationwide, with a fine of 15.28 billion RMB. Or 2.5 billion US dollars, five times more than that in 2014.
Sixth, high quality economic development was facilitated. Guiding Opinion on Advancing Reform to Delegate Power, Streamline Administration and Optimize Government Services to Promote High Quality Economic Development were published and circulated with 15 key measures including accelerating reform in approval system.
Seventh, reform measures were implemented in ecology and environment. Ministry of Ecology and Environment was established smoothly and the guiding documents and catalogue for reform on comprehensive administrative law enforcement for eco-environmental protection were compiled.
Measures for Waste Discharge Permit Management was promulgated with discharge permit issued for over 39 thousand enterprises in 18 industries, and the issuance of discharge permit for sewage treatment plants in 36 key built-upurban areas was completed one year ahead of schedule. Implementation plans for eco-environmental damage compensation reform at provincial level were published in all provinces.
Li Ganjie said that great changes have taken place in China in terms of eco-environmental protection.
"In the past it was the little bull who drove the big cart meaning that only the eco environmental protection ministry dealt with pollution issue. Since the 18th CPC Congresss in 2013, the little scale of environmental protection was changed into large scale environmental protection including the involvement of supreme court and procuratorate." Said Li.
"We shall employ a mixture of means including law, market, technology, administration, etc, with both strict regulation and optimized services, leveraging on guidance and incentives as well as restraints and penalties. We shall step up efforts and put more resources in the seven milestone battles for further improvement in eco-environmental quality, creating en all-win scenario of environmental, economic and social benefits while strengthening people's feeling of gain, happiness and security, thus building a critical foundation for the accomplishment of building a moderately prosperous society in all respects and celebrating the 70th anniversary of the founding of the People's Republic of China with heartening achievements."
During the NPC session, when all the delegates and journalists deliberated the work report of the Supreme Court and Supreme Procuratorate, one can hear the echo of judicial measures taken by Chinese government in punishing those enterprises who polluted the environment.
Of course, there is still a long way to go for China to achieve a complete victory in environmental protection and pollution prevention. It is an ever lasting campaign. And more efforts should be put on further popularizing the awareness of the common people to form a better habit in the battle.
During your reporter's stay in Beijing, I went out to have lunch with a classmate once and the restaurant put up a plate at the side of the table, Please do not leave too much left overs and please do not waste food. So we just ordered two dishes and too bowl of rice and eat them all.
The awareness has improved a lot too.