Xuefei Chen Axelsson
STOCKHOLM, Feb. 22(Greenpost) — A study published in November by Swedish Institute of Development and Policy  argues that both China and the Nordics have significant gains to make through closer cooperation. Relations based at the larger, Nordic regional level would be more interesting to China. Bilateral relations with five small individual states would be less so.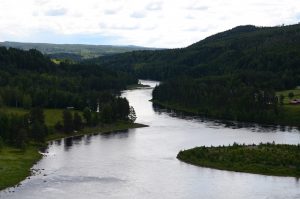 The paper says that the Nordic countries share common concern and interests, and maintain basic policy frameworks. Towards China, however, the Nordics diverge on geopolitical stakes, mutual competition, economic structures and multilateral affiliations.
Substantial efforts will be needed to strengthen Nordic collaboration as a union, in order to maintain meaningful relations with China. Further challenges lay ahead in developing Nordic institutional coherence at the European sub-regional level.
People-to-people relations leave space for improvement. The overall public image of China among Nordic societies has deteriorated in recent years, however, data is sparse and this trend may vary among Nordic countries.
Equally, the understanding of China by Nordic populations is poor, not least in the fields of political affairs, development and security policy. Deeper dialogue on areas of common interest such as the Arctic and "Belt and Road" region offer opportunities.
Economic relations have been fruitful. However, some opportunities remain underutilized. Nordic input on innovation, entrepreneurship, welfare and urban governance could be of great value to China's domestic reforms. In turn, China's reforms offer numerous projects, new markets and investment opportunities to Nordic enterprise.
Scientific and environmental relations are areas which both parties have shared mutual competences. China is fast becoming one of the innovative countries in the world. Here, the Nordic region can provide training opportunities and access to key expertise. In turn, Chinese scholars and expertise can complement areas where the Nordic region lacks its own resources.
Security and development are fields of complex relations. China has shown great commitment to development in recent years whilst Nordic institutions exist as knowledge bases for development policy.
Looking ahead, active and tangible policy measures will be required to gradually expand and then deepen relationships. In the short term, both sides should work towards building a base for further engagement. In the medium term, coherent and mutually recognized frameworks are needed to guide and interconnect policy efforts. In the long term, Sino-Nordic linkages can become a hub for dialogue and international coordination.
At last, Greenpost likes to give a little bit analysis. The low tide of engagement between China and Nordic countries were due to two reasons. One was the the relations with Norway, and the other was the Chinese side that has reduced official visits abroad because of anti-corruption campaign.  With the normalization of China- Norway relations, I predict that China and Nordic relations should face a new tide with the initiative of one belt and on road as well as cultural going abroad.