By Xuefei Chen Axelsson
STOCKHOLM, Feb. 18(Greenpost) — China's national liquor, Maotai has entered the Nordic region as a tasting banquet has been held in
Roserbergshotel in western Stockholm.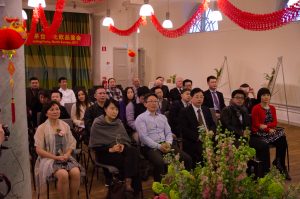 Chen Weiwei, agent of the Chinese Maotai and manager of APC China Trading AB said APC China Trading AB got the rights to sell higher degree liquor in 2016 and fortunately cooperated with China's Maotai and enjoyed the agent rights in nordic countries. Currently all the Chinese restaurants that has the rights to sell liquor sells Maotai in the capitals of nordic countries.
Chen said this time they held such a Maotai tasting ceremony to welcome more customers within the Chinese Spring Festival of Rooster month, thus it is a blessing from Maotai and she wishes everyone a happy festival.
Ye Peiqun, Executive Director of Swedish National Chinese Federation, Wang Jianrong, Swedish All Chinese Chamber of Commerce, Liu Fang, MP from Nacka city in Stockholm and managers and presidents of various restaurants and Chinese companies attended the Maotai tasting conference.
After the tasting ceremony, people also have a banquet to taste it with western food.